Ground Freight Shipping from Tri-ad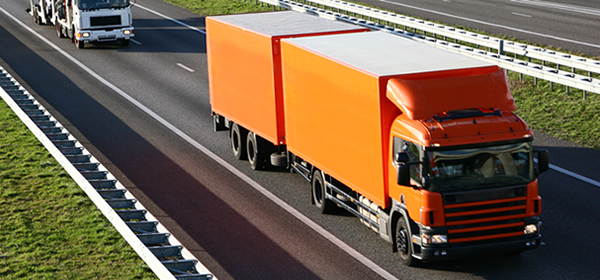 Triad offers a broad range of ground freight shipping services that are reliable, cost-efficient and provide many excellent options for your business. We work with a number of well-known ground carriers who specialize in all types of cargo from large bulky items to automobiles and furniture. Our just-in-time service features pick-ups and deliveries with detailed ongoing communications.
If you need faster shipping, such as overnight or next day, then consider using air freight. Tri-ad offers these and many other professional shipping options such as Intermodal shipping.
We have an extensive network of North American service providers offering a complete range of Ground distribution solutions
TL (Truckload)
Dry Van
Flatbed
Intermodal
Refrigerated Units
LTL (Less than Truckload)
2-5 day economy
Hotshot/Direct drive
Hazardous Materials
Residential
White Glove
Trans-Border Services
Get numerous levels of ground services between all major points in the USA and Canada. Tri-ad's direct delivery service ensures that your shipment is transported intact and on time. We're available 24 hours per day, 365 days per year. Assembly, distribution and consolidation services are available at many major locations.
Trade Fairs & Exhibits
You can trust Tri-ad with your cargo! We'll get it to trade fairs and exhibits on time and safely. We offer a higher level of ground freight services for the USA, Mexico and Canada designed to enhance your business and remove the stress from these types of events.
Domestic Service
As a leader in domestic ground shipping, Tri-ad offers unparalleled routing and shipping to locations all over Canada. Shipments are easy to track and you'll receive exceptional communications from our skilled customer service associates. The Collier Group handles our local shipping and is a division of Tri-ad.
Rail Services
Experience the Tri-ad advantage with our intermodal service. We have trailers and container equipment available year-round for shipping all across North America. Get one-stop, door-to-door delivery from our network of skilled associates. With a team of professionals who have a diverse background in railroading and logistics, our senior staff gives you the industry experience necessary for an exceptional shipping experience every time.
Intermodal Service
With a global outreach, we deliver flexibility and control of your cargo, utilizing numerous relationships with rail and road providers. We keep your cargo moving with efficient loading times, seamless customs clearance and lower overall costs. For your convenience, one invoice covers the total move. We offer a long list of other perks listed
At Tri-ad, our primary focus is developing and maintaining long-term strategic partnerships with our customers. We accomplish this by delivering exceptional ground freight shipping services and we do this consistently 365 days per year. You can trust Tri-ad with your most critical shipping needs every day.
Consolidation Program
Multiple Pick ups
Consolidations
Reduced Brokerage costs
Charged by aggregate weight